In recent years we have experienced an unprecedentedly high level of digitalization on innovative market leaders. They lead by example and this approach has proved to be crucial and indispensable for other companies that want to succeed and meet the needs of their customers.
To provide a better and faster user experience to their customers, all market leaders have two things in common, focus on automation and integration.
Even though each integration project is different, we may look at all of them from a digital maturity perspective in order to evaluate what makes them successful. Forbes defines The Four Stages of Digital Maturity and we will look at three of those stages to show you different approaches that companies use in their integration projects built on Kentico Xperience.
Intentional digital maturity
Companies that are preparing for a digital transformation, but haven't started yet—these can be traditional manufacturing or sales organizations where IT plays a necessary role to support the business.
These organizations have several customized IT systems that have been operating for decades. Systems may not always be flexible enough and, due to a large number of customizations, it may be difficult to estimate the costs and time required for a new development or upgrades. Information silos can emerge in organizations, as some IT systems may be isolated which can lead to data duplication across several systems.
Implementation of a new website with marketing features usually requires work on multiple integrations and extended data testing. Let's have a look at the example below.
A common risk with such projects usually arises where business logic is implemented. Is it fully handled by other systems or do we have to implement some on the website?
For example, imagine you have a project as above which contains a registration form. All data from the website is being synchronized with the contact database. However, you realize there is different logic for creating a B2B and B2C customer. The website developer expects this work to be handled by the contact database. Internal IT expects the opposite, it should be part of the web portal scope. Who is right?
Exact details of such things usually appear during the technical analysis or during the development itself as they are considered to be obvious. Ultimately there is no right solution, it is more about what is better/more strategic/if there is a budget for internal changes.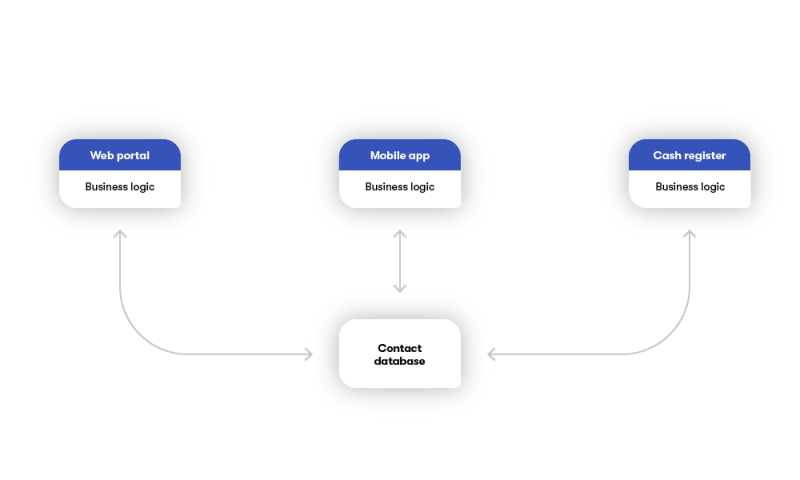 You just have to bear in mind one thing. If you decide to build such logic on the website as it's the best solution at that particular time, there is one future constraint. When you start with an omnichannel strategy, you may need to develop the business logic again for other channels as well. This naturally brings additional costs and complications when changing the logic in all places.
Integrated digital maturity
Companies that decided to use a new website project as one of the first steps in a digital transformation—management at these companies understands how important it is to have a flexible IT architecture, which will provide a competitive edge in the future when adapting quickly to the needs of market.
These organizations are ready for new investments in IT and modernization of existing infrastructure. The implementation of such projects is more systematic, and the IT architecture is being designed with a goal to minimize operating costs and to increase flexibility.
Implementation of these projects from a developer's perspective tends to be much more interesting and innovative. The most recent technologies are being used, infrastructure is heading to a Cloud, and teams on both sides are highly motivated, they are creating something new.
The risk factor in these projects may be budget and the time required for implementation and testing. Innovations needed at the organization's side may appear to be much more complex than expected at the beginning. Such risk should be highly monitored in order to minimize project delays due to wrong expectations by all sides.
For example, the following illustrations show a customer who is intensively working on the digital transformation from both ends. The new Kentico Xperience commerce project with marketing automation features is approved together with internal IT innovations.
Current state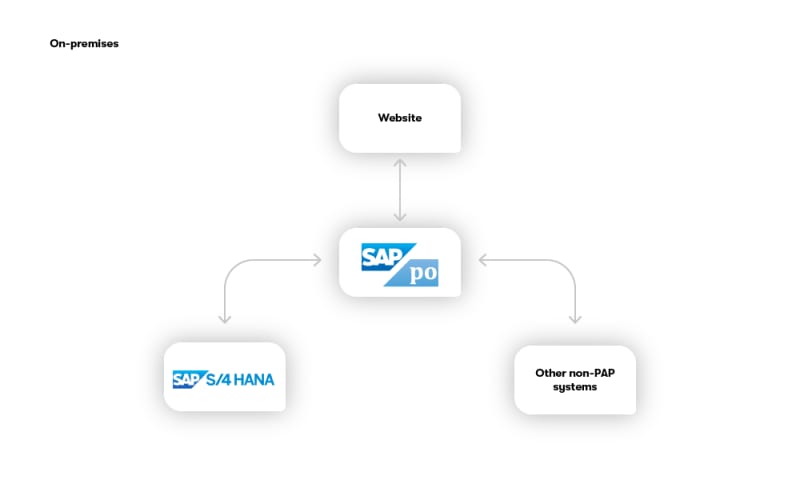 As you can see, this is a complete change of a company's IT architecture. It must be always supported by management, otherwise you will not be capable of achieving such results. The organization perceives a need for modernization and understands flexibility which will be gained by having cloud and central data storage.
A key success factor of such an innovative project is the selection of a partner who has extensive experience with a highly skilled development team. This team must have experience with proven integration patterns and must have a good understanding of possible data load increase in case your business will scale up. Experience with the prevention of enormous hardware utilization by properly written integrations may be helpful as well in order to reduce your cloud monthly payments.
Optimized digital maturity
Highly innovative companies with a modern IT architecture. IT stands behind the success of the entire organization.
In these organizations, IT itself is very close to marketing and business. Agile approaches, flexibility, willingness to change rigid processes, and even the use of cloud services are very common.
The development of web platforms for these organizations is very fast and puts high demands on the skills and knowledge of a supplier, which are key for success as well. The IT architecture of such an organization is well prepared, integration and business layers are divided.
There are multiple scenarios of how IT architecture can be approached but a common denominator for all companies is an integration bus layer (middleware) that integrates all systems together.
The huge advantage you gain is flexibility when replacing or changing one of the systems. You may focus on one entry point without breaking another one (if properly handled 😊).
Do you know which organization you belong to?
Do you want to learn more about real Kentico Xperience integration projects? Or, have some questions you want to raise?
Influence of web platform selection on the success of a digital integration project
Not only a nice UI but also pressure on speed of integrations, system load, marketing automation, minimization of downtime during upgrades or release of new versions, and low operating costs—these are some of the key aspects of a modern web platform.
At ACTUM Digital, we are increasingly experiencing a situation where the selection of a web platform comes from the organizations themselves. Companies are not looking for a partner with the best technology, but they want the best possible technology at the platform level, one that allows them to do things they never even dreamed of before, such as the speed of processing large amounts of real-time data or targeted "individual" offerings for individual subsegments, or even for individuals.
In addition to this technology, companies are looking for an implementation partner with experience in similar projects and with an ability to deliver the project on time.
That's all for today. I wish you luck with your integration project. Join our webinar to learn more.