DXP as a modern means to improve business performance
The ever-blooming transformation to digital business has accelerated the need for an efficient online presence for most companies. A digital experience platform (DXP)—connecting digital marketing, content management system, and commerce capabilities in one fully integrated, unified solution—provides all the necessary tools to successfully run a website and enables businesses achieve their digital goals, attract more visitors, and nurture them along their entire buyer's journey.
LEARN MORE ABOUT DIGITAL EXPERIENCE MATURITY
Knowing and understanding your digital experience maturity is key.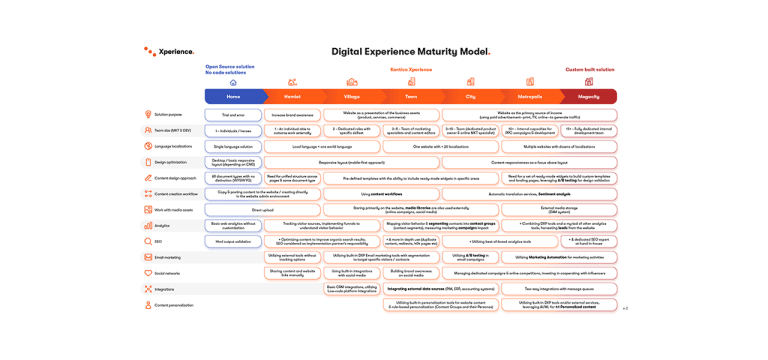 A well-assessed level of digital sophistication directly affects a company's ability to efficiently leverage the available DXP tools for creating powerful digital experiences, such as content personalization, A/B testing, omnichannel marketing, marketing automation, analytics, and beyond.
To help you establish your digital experience maturity and guide you on the way to reaching the highest efficiency of your business's online presence as your needs evolve, we've created a concise, easy-to-navigate Digital Experience Maturity Model. You can find it as a part of our 'How to increase solution efficiency through understanding your digital experience maturity' ebook.
ASSESS YOUR BUSINESS'S DIGITAL EXPERIENCE MATURITY
How to use the Digital Experience Maturity Model to assess your business's digital sophistication
Why a correctly established level of digital experience maturity will boost your business results
What are the recommended next steps on your journey to a successful digital transformation
Valuable tips and tricks to get closer to your audiences